MAX6675 Type K Thermocouple Adapter with SPI/UEXT Interface for Arduino/Raspberry Pi
Product Description
Overview
Compared to semiconductor temperature sensors, thermocouples have a wide working range, and do not need any external excitation power. They are cost effective and interchangeable. In some high temperature application, they may be the only practical choice with a reasonable price. Signal conditioning is the most tricky part for thermocouple temperature sensors, it deals with micro volts amplification and the cold junction compensation. Thanks to the MAX6675/MAX31855, all the signal conditioning had already been done inside the chip, and the amplified analog voltage is digitized and accessible to external MCU via SPI interface.
Features
3.3V/5V Powered.
UEXT Interface
SPI Interface
Pin Configuration
5-pin 2.54mm Connector:
MISO-Sensor SPI output
SS-Sensor SPI slave select input
SCK-Sensor SPI clock input
5V0-3.3V/5V power supply (VIN)
GND-Ground
UEXT Connecor:
Demo Code Screenshot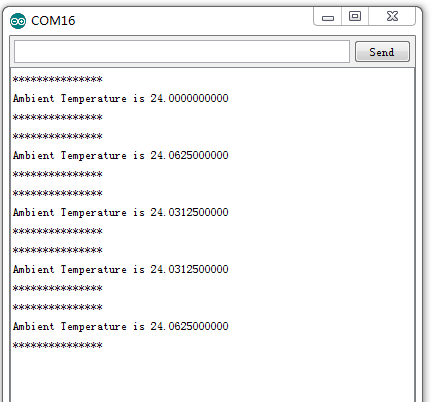 In the Package
A fully assembled and tested MAX6675 thermocouple adapter
A 10-pin rainbow cable used to connect the adapter and Arduino
Resources
Payment
Return and Warranty
100% full money back for DOA.
100% full money back if your goods is lost.
7 days full money back. The buyer has to send the goods back and pay for the shipment.
Foot note
We are not good at Photoshop. But we do have a camera.
We are the designer of this product. We assemble, test and sell this product on our own. We guarantee that all technical questions will be answered by qualified engineers.