MG-811 CO2 Gas Sensor Module
Out of stock
Product Description
Overview
This sensor module has an MG-811 onboard as the sensor component. There is an onboard signal conditioning circuit for amplifying output signal and an onboard heating circuit for heating the sensor. The MG-811 is highly sensitive to CO2 and less sensitive to alcohol and CO. It could be used in air quality control, ferment process, in-door air monitoring application. The output voltage of the module falls as the concentration of the CO2 increases.
Features
Analog and digital output
Onboard signal conditioning circuit
Onboard heating circuit
Sensor jack eliminates soldering the sensor and allows plug-and-play
4-pin interlock connectors onboard
4-pin interlock cables included in the package
Compact size
In the Package
A fully tested MG-811 CO2 sensor module
A 4-pin 30cm cable (with interlock connector on one end, free on the other)
Related Product
Resources
Demo Output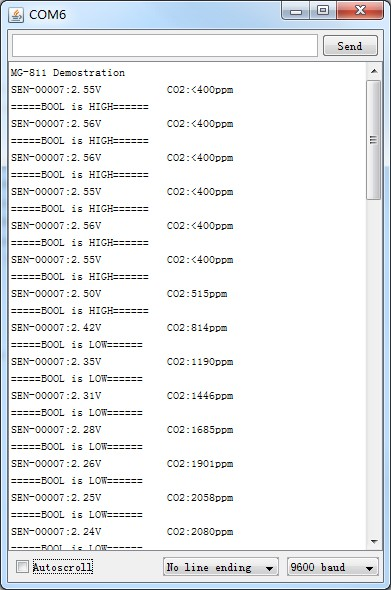 Demo output when a small amount of breath is puffed to the sensor.