Active I2C Long Cable Extender P82B715 Module
Product Description
Overview
This module is designed to enable long-range I2C communications which extend the cable length from several meters to about 50 meters. Operating with any I2C master, slave or bus buffer is the primary advantage of this module. NXP P82B715 I2C bus extender IC is used as the main component of this module. The module has four pull-up resistors on board: two on the unbuffered bus side and another two on the buffered bus side. Additionally, there are two LEDs that indicate the SCL and SDA activities on the bus. Both the LEDs are driven by transistors which draw negligibly small current from the SCL and SDA lines.
Features
Multi-drop distribution of I2C-bus signals using low-cost twisted-pair cables
Dual, bidirectional, unity voltage gain buffer with no external directional control required
Compatible with I2C-bus and its derivatives SMBus, PMBus, DDC, etc.
Supply voltage range 3V to 12V
Clock speeds to at least 100 kHz and 400 kHz when other system delays permit
4-pin interlock connectors onboard
4-pin interlock cables included in the package
Compact size
In the Package
A fully tested Active I2C Bus Extender Module module
A 4-pin 30cm cable (with interlock connector on one end, free on the other)
Recommended Products for 300-meters Cable
Resources
Waveform
The following graph is the waveform of SCL and SDA lines on an oscilloscope when a 5-meter cable is used. (Without I2C Bus Extender Module.)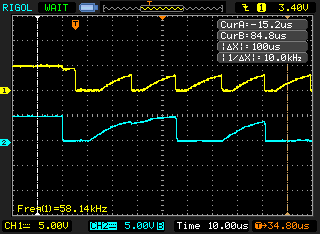 In the above graph, the communication is corrupted due to the low peak voltage.
The following graph is the waveform of SCL and SDA lines on an oscilloscope when a 20-meter cable is used. (With I2C Bus Extender Module and 157ohm pull-up resistors on the buffered bus.)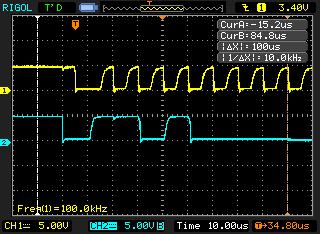 By adding two MOD-15 I2C Bus Extender Modules between the two nodes, the communication is still fine even the length of the cable is extended to 20 meters.