Overview
This module has a DS1307, a battery socket and three pull-up resistors on the PCB. It uses I2C protocol to communicate with external I2C master (Arduino board, PIC, AVR, etc.). The SQW/OUT pin of DS1307 is broke out via a 3-pin interlock connecter. A 4-pin connector eases the wiring to an Arduino Sensor Shield. The three pull-up resistors are connected to SDA, SCL, and SQW respectively, and they are clearly noted on the silkscreen of the PCB. User could take them off board if those pull-up resistors have already been implemented somewhere else off the module.
Features
Onboard battery socket (CR2032 battery included)
3-pin and 4-pin interlock connectors
Typical Application Diagram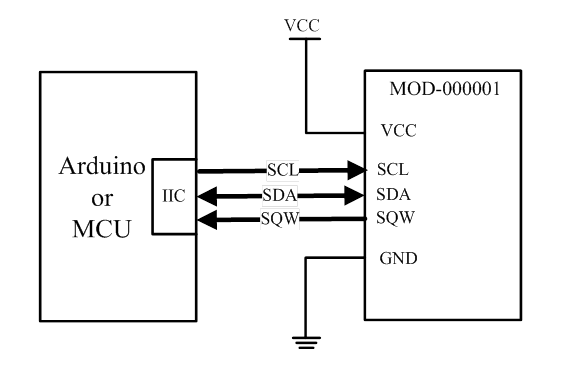 Arduino Sample Code
DS1307 Library should be downloaded and included as shown in the source code.
1

2

3

4

5

6

7

8

9

10

11

12

13

14

15

16

17

18

19

20

21

22

23

24

25

26

27

28

29

30

31

32

33

34

35

36

37

#include <DS1307.h> // written by mattt on the Arduino forum and modified by D. Sjunnesson

RTC

.

set

(

DS1307_SEC

,

1

)

;

//set the seconds

RTC

.

set

(

DS1307_MIN

,

47

)

;

//set the minutes

RTC

.

set

(

DS1307_HR

,

21

)

;

//set the hours

RTC

.

set

(

DS1307_DOW

,

7

)

;

//set the day of the week

RTC

.

set

(

DS1307_DATE

,

19

)

;

//set the date

RTC

.

set

(

DS1307_MTH

,

6

)

;

//set the month

RTC

.

set

(

DS1307_YR

,

11

)

;

//set the year

Serial

.

print

(

RTC

.

get

(

DS1307_HR

,

true

)

)

;

//read the hour and also update all the values by //pushing in true

Serial

.

print

(

RTC

.

get

(

DS1307_MIN

,

false

)

)

;

//read minutes without update (false)

Serial

.

print

(

RTC

.

get

(

DS1307_SEC

,

false

)

)

;

//read seconds

Serial

.

print

(

" "

)

;

// some space for a more happy life

Serial

.

print

(

RTC

.

get

(

DS1307_DATE

,

false

)

)

;

//read date

Serial

.

print

(

RTC

.

get

(

DS1307_MTH

,

false

)

)

;

//read month

Serial

.

print

(

RTC

.

get

(

DS1307_YR

,

false

)

)

;

//read year
Demo Output